The combination of money and data makes Bitcoin SV (BSV) a powerful technology, but in gambling, it may have found a perfect fit. Bitboss has been working on BSV applications to revolutionize the gambling industry, and at the recent CoinGeek Seoul conference, Matthew Dickson, CEO and co-founder of the company, revealed some amazing stuff they have on the way.
After introducing the company to the crowd, Dickson quickly touched on Keyring, the BSV javascript library Bitboss developed while making their products. As we've noted previously, Bitboss made Keyring available to all developers, a move which was intended to make developing on BSV easier for everyone.
While blockchain gambling makes one think first of online gambling, Bitboss is also working on applications for brick and mortar casinos. Bridge, a new hardware product from the company, is going to be a huge leap forward for slots and other electronic games found in casinos.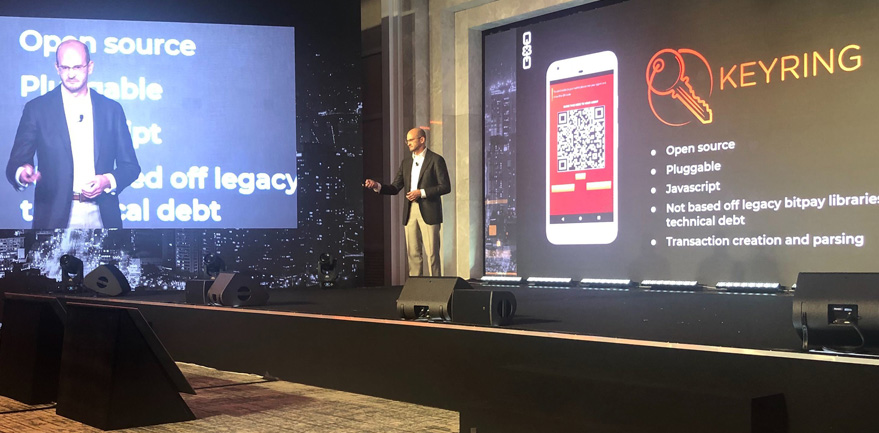 Consisting of a Bridge Wallet, Vault, Link, and ecosystem, Bridge technology is an end to end solution to allow players to play their favorite slot, have that machine update the back-end of the casino, and to communicate with a player via their phone, either their current credit amounts or marketing items the casino wants to put in front of them.
Dickson explained the technology to us in full on the sidelines of the event:
Bridge is a new hardware product we designed. It's roughly $100 U.S. right now, so it's very inexpensive. It runs Linux, we insert it into a slot machine, and it intercepts the communications going back and forth between the slot machine and the backend server that runs a casino. And using that, we can then rout cryptocurrency, whether it's a token or actual cryptocurrency, whatever the casino would chose, on and off the slot machine. And it replaces the traditional tickets that you print out when you want to cash out of a slot machine.
I think the main idea we like to relay to people though, is that by moving those credits off of a piece of paper and onto the clients, or the customers cellphone, you now have a much better opportunity to market to your customer, because they always have their cellphones. And there was a time when we said that a certain demographic wouldn't have a cellphone, an older lady may not have a cellphone, but I think those days are gone.
So the traditional slot machine customer now has the world's greatest marketing device in their hands, online, all day long. And by the casino connecting to their customer through the cellphone, they have new and innovative ways they can start to market.
The next major item of Bitboss' demonstration was the games that they have released, or are currently working on. Using the BSV blockchain, they've created baccarat, roulette and lottery games, and are currently working on sicbo. But it's not just their own offerings, they also plan to offer Bitboss as a platform for other game developers to build on.
We followed up and asked them how far away we are from having these games rival traditional offerings. "I think we're very close," he answered. "So there's a lot of online casinos now that accept [BTC] or BSV or Litecoin, whatever it may be, as a method of payment. What we're trying to do is actually replace the entire infrastructure so that all the transactions are happening on the chain as well. And we've taken a lot of care to create very high value content… These games will have provably fair built in as well. So they'll function just as well as a traditional online product, they'll have provably fair built in, and they'll run on the blockchain."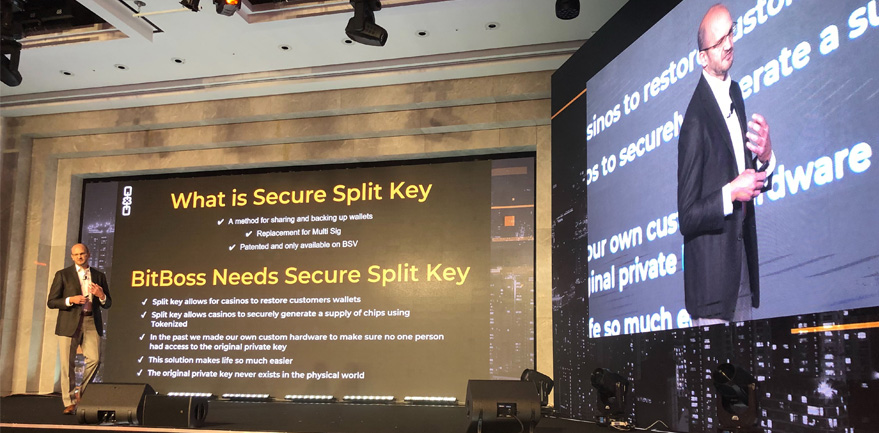 Using their Secure Split Key technology, Dickson sees BSV gambling as a huge leap forward for operators. "By using a blockchain you decouple the necessity for the client, the customer, to talk directly to the server," he noted. "So the client can talk to the blockchain, the casino can talk to the blockchain, and they just use the chain as a data layer, and a transactional and data layer to do the communication. And by its design, security is built into every transaction on a blockchain. So it eliminates a lot of the big worries that traditional operators have today."
Dickson also spoke about provable fairness, a concept in blockchain gambling where the player can check for themselves that the games are totally random and fair, and Bitboss' use of tokenized to ensure gambling actions are completely following. It's a concept that can be very attractive to regulators too, and we asked him about their focus on these officials. "We've actually taken great lengths to talk to regulators and to talk to bodies around the world that certify products as well," he said. "And to try to get the standards written to encompass blockchain technology… By introducing provably fair into every transaction, a regulator can look at an operator and say yes, they are doing this with 100% fairness. And that's really what a regulators after, right?"